Perfetto trace config
This doc is WIP, stay tuned.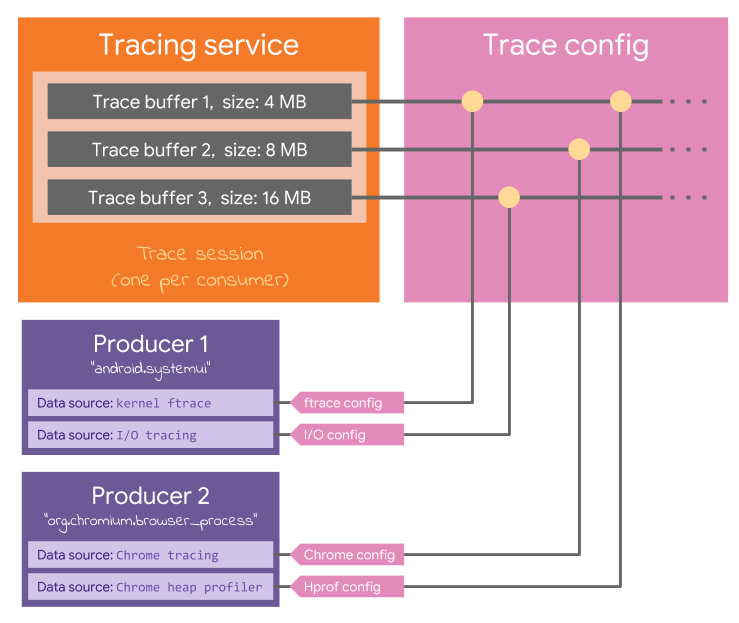 The TraceConfig is an extensible protobuf message, sent by the consumer to the service, that defines:
The number and size of the trace buffer.
The duration of the trace.
[optionally] a file descriptor for the output trace and a periodic write interval. If omitted the trace is kept only in memory.
The producers involved in the trace session.
The data sources involved in the trace session.
The configuration of each data source.
The crossbar mapping between each data source and the trace buffers.
Each data source can create its own specialized schema for the config, like this
See trace_config.proto for more details.
For convenience, a vulcanized trace config where all the nested protobuf sub-message definitions are squashed together is available in perfetto_config.proto.
Specifying a custom trace config
cat 

>

 

/

tmp

/

config

.

txpb 

<<

EOF


# This is a text-encoded protobuf for /protos/perfetto/config/trace_config.proto


duration_ms

:

 

10000





# For long traces set the following variables. It will periodically drain the




# trace buffers into the output file, allowing to save a trace larger than the




# buffer size.


write_into_file

:

 true
file_write_period_ms

:

 

5000



buffers 

{


  size_kb

:

 

10240




}



data_sources 

{


  config 

{


    name

:

 

"linux.ftrace"


    target_buffer

:

 

0


    ftrace_config 

{


      buffer_size_kb

:

 

40

 

# Kernel ftrace buffer size.


      ftrace_events

:

 

"sched_switch"


      ftrace_events

:

 

"print"


    

}


  

}




}



data_sources 

{


  config 

{


    name

:

 

"linux.process_stats"


    target_buffer

:

 

0


  

}




}


EOF

protoc

=

$

(

pwd

)/

out

/

android

/

gcc_like_host

/

protoc

$protoc 

--

encode

=

perfetto

.

protos

.

TraceConfig

 \
        

-

I$

(

pwd

)/

external

/

perfetto

/

protos \
        $

(

pwd

)/

external

/

perfetto

/

protos

/

perfetto

/

config

/

perfetto_config

.

proto \
        

<

 

/

tmp

/

config

.

txpb \
        

>

 

/

tmp

/

config

.

pb

cat 

/

tmp

/

config

.

pb 

|

 adb shell perfetto 

-

c 

-

 

-

o 

/

data

/

misc

/

perfetto

-

traces

/

trace

.

pb
adb shell cat 

/

data

/

misc

/

perfetto

-

traces

/

trace

.

pb 

>

 

/

tmp

/

trace

.

pb
out

/

android

/

trace_to_text json 

<

 

/

tmp

/

trace

.

pb 

>

 

/

tmp

/

trace

.

json



# The file can now be viewed in chrome://tracing